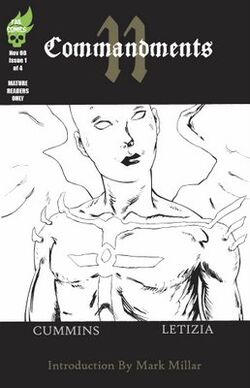 11 Commandments, horror comic written by Gareth Cummins, drawn by Bruno Letizia, and published by Fail Comics.
When Thomas, a Dublin man with a failing marriage and an alcohol problem, is involved in a fatal car crash, an angel appears and offers him a choice. Either die, or collect ten religious relics and get his life back. He chooses the latter, and wakes up as an animated corpse in a mortuary.
Intended as a four issue miniseries with the potential for sequels. Issue zero, a preview coloured by Paul Duffy, launched at 2007 Dublin City Comic Con. Issue 1, in black and white with an introduction by Mark Millar, launched at 2008 Dublin City Comic Con. No further issues have appeared.
References
Edit
Ad blocker interference detected!
Wikia is a free-to-use site that makes money from advertising. We have a modified experience for viewers using ad blockers

Wikia is not accessible if you've made further modifications. Remove the custom ad blocker rule(s) and the page will load as expected.