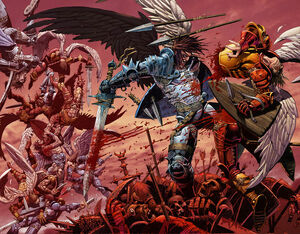 13 Coins is a comic series, co-created by & co-written by the screenwriters of Hitman: Absolution , Martin Brennan, and Michael B. Jackson, drawn by Simon Bisley (issues 1-6), inked by Andy Brown (issue 1) and coloured by Ryan Brown (issues 1-6), forthcoming from Corinthian. It is also in development as a feature film.
John Pozner, a tormented ex-con on a quest for vengeance, discovers he is descended from angels, and is the living key to Earth's future, or Heaven's fall.
External links
Edit
Ad blocker interference detected!
Wikia is a free-to-use site that makes money from advertising. We have a modified experience for viewers using ad blockers

Wikia is not accessible if you've made further modifications. Remove the custom ad blocker rule(s) and the page will load as expected.