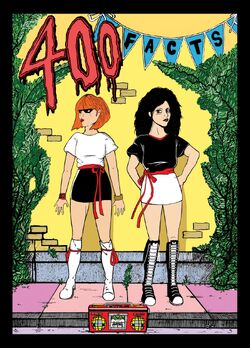 400 Facts is a small press comic created by Stephen Maurice Graham, published in 2009. The piece was 24 pages and A4 size behind a glossy colour cover. 
Eleanor Riley makes a new start following a break-up, moving into 400 Factory Road, a delapidated apartment building in northern England, and reminiscing about the events that led her here as she meets her neighbours.
External links
Edit
Ad blocker interference detected!
Wikia is a free-to-use site that makes money from advertising. We have a modified experience for viewers using ad blockers

Wikia is not accessible if you've made further modifications. Remove the custom ad blocker rule(s) and the page will load as expected.