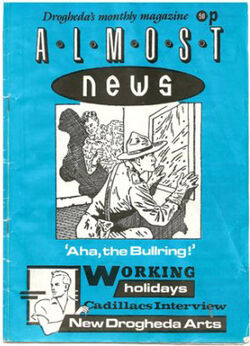 Almost News was a monthly magazine published in Drogheda in 1985. Four issues were published. It covered local music, clubs and culture, and included comic strips by design editor Arthur Matthews, including "Trendy Trevor" and "Hard Drinking Dan the Pints Man".
References
Edit
Ad blocker interference detected!
Wikia is a free-to-use site that makes money from advertising. We have a modified experience for viewers using ad blockers

Wikia is not accessible if you've made further modifications. Remove the custom ad blocker rule(s) and the page will load as expected.