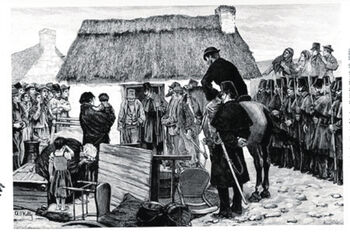 Aloysius O'Kelly, painter and illustrator, was born in Dublin on 3 July 1853, son of a blacksmith. His older brother, James J. O'Kelly, was the Irish Parliamentary Party MP for Roscommon from 1880 to 1916. His uncle on his mother's side was the sculptor John Lawlor, and his cousin, Michael Lawlor, was also a sculptor.
He studied at the École des Beaux-Arts in Paris, from 1874 to 1876, and spent some time drawing and painting in Brittany. He returned to Ireland in the early 1880s and worked as a special artist for the Illustrated London news, drawing attention to evictions and Land League agitation in the west of Ireland. His illustrations were also reproduced in the French newspaper, Le Monde illustré.
In later life he lived in the United States. He died in 1936 in Poughkeepsie, New York.
References
Edit
Online reference
Edit
Ad blocker interference detected!
Wikia is a free-to-use site that makes money from advertising. We have a modified experience for viewers using ad blockers

Wikia is not accessible if you've made further modifications. Remove the custom ad blocker rule(s) and the page will load as expected.