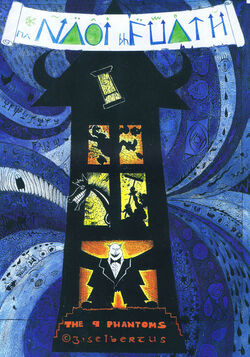 Aodh Mc Lochlainn is an artist from Killiney, County Dublin.
In 2005 he published Na Naoi bhFuath ("the nine phantoms"), an Irish language comic with English translation, drawn in anachronistic style, based on the legends of Fionn mac Cumhaill and the Fianna. Caoilte, last survivor of the fianna, tells St. Patrick a tale of how Fionn and the fianna found themselves trapped in the house of a giant.
He also created Níl Aon Problems, Only Opportunities, of which I know nothing.
Ad blocker interference detected!
Wikia is a free-to-use site that makes money from advertising. We have a modified experience for viewers using ad blockers

Wikia is not accessible if you've made further modifications. Remove the custom ad blocker rule(s) and the page will load as expected.