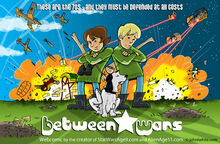 The Creator
Edit
Between * Wars is an ICN Award-Nominated webcomic by Dublin-based Illustrators Ireland member, John I. White. He's primarily worked as a Visual Designer.
It was commenced in September 2014 after abandoning his previous comic Imaginary Machine Gun or 'IMG'. B*W is intended as a fun, nostalgic look back on childhood in the late 1970s an how kids enjoyed and were influenced by the popular culture of that time. In many ways, it's an anti-dote to the more blackly humorous IMG.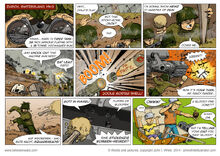 Originally, in Late-Sept '14 it was a landscape-format, full-colour strip in which there were no intended story-arcs. Each strip was a separate entity as is common in traditional newspaper strips. It was envisioned however, that it might move to grander story ambitions depending on how it developed and on how much time the creator has to spare for it. Now, it has made that transition, with mini-stories developing over 3 or 4 pages and with linkages to others.
Production Process
Edit
At present, the strips are drawn with pen on paper and coloured in Photoshop. Some corrections are made to linework on computer. Eventually all of the linework may be done on computer. The frames and lettering are done in InDesign.
External Links
Edit
Ad blocker interference detected!
Wikia is a free-to-use site that makes money from advertising. We have a modified experience for viewers using ad blockers

Wikia is not accessible if you've made further modifications. Remove the custom ad blocker rule(s) and the page will load as expected.