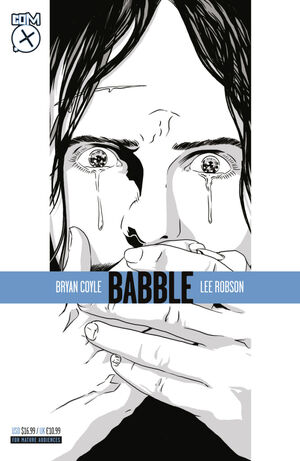 Babble is a graphic novel written by Lee Robson and drawn by Bryan Coyle, published by Com.X in 2013.
Carrie Hartnoll is a girl lost in a life going nowhere fast, until a chance encounter with an ex-boyfriend affords her the opportunity of a whole new career in Ivy League America, as part of a research team attempting to resurrect the language of Babel – a language, it is theorised, that can be understood by any human, from anywhere in the world.
As Carrie pieces together her fractured personal life, she becomes embroiled in the mystery surrounding the apparent suicide of the project's original team leader, which propels her to uncover the horrific truth about the language and why it was written out of the history books...
The book was originally intended for Insomnia Publications, and was delayed after Insomnia folded. Artist Bryan Coyle was nominated for the 2013 Russ Manning Award for Most Promising Newcomer on the basis of it.
External links
Edit
Ad blocker interference detected!
Wikia is a free-to-use site that makes money from advertising. We have a modified experience for viewers using ad blockers

Wikia is not accessible if you've made further modifications. Remove the custom ad blocker rule(s) and the page will load as expected.