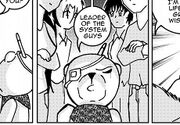 Back Office is a weekly webcomic, produced in Oslo, Norway by Irish Ex-Pat Mark Egan.
Launched in August 2010 on RAWRtacular.com , the comic is drawn in a manga-esque style, and follows the adventures of several call-center agents in a fictional telecoms company.
Back Office mostly follows the struggles of Mike, a young man who has been hired to work at a Customer Support call-center. Soon after joining the company he is forced to deal with demonic team-leaders, vengeful customers, and finally an insane Call-Queue computer. By the end of 2010, the comic's cast included a female lead named Karen, and also featured several supporting characters.
Storytelling in Back Office can vary depending on plot. Some editions may be a simple 'joke-a-day' strip, while others would focus on longer story arcs, containing fewer jokes if any.
Back Office is currently updated every Monday.
External links
Edit
Ad blocker interference detected!
Wikia is a free-to-use site that makes money from advertising. We have a modified experience for viewers using ad blockers

Wikia is not accessible if you've made further modifications. Remove the custom ad blocker rule(s) and the page will load as expected.