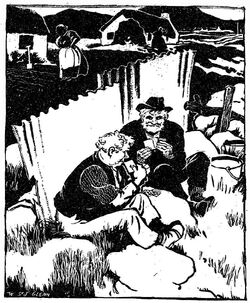 Ballyscunnion was an imaginary village in Ireland created by Bill Glenn in a series of 285 scraperboard cartoons which appeared in Dublin Opinion from 1937 to 1969, with a break between 1940 and 1946 due to illness and the war. The series is a satirical social history of rural Ireland, depicting the villagers coming to to terms with social change, and often comments obliquely on national and international events.
External links
Edit
Online reference
Edit
Ad blocker interference detected!
Wikia is a free-to-use site that makes money from advertising. We have a modified experience for viewers using ad blockers

Wikia is not accessible if you've made further modifications. Remove the custom ad blocker rule(s) and the page will load as expected.