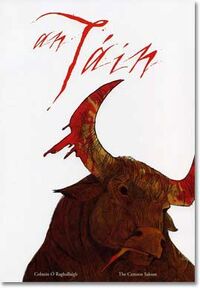 Barry Reynolds is a Dublin-born character designer, animator and illustrator. He studied classical animation at Ballyfermot College in Dublin and has worked for numerous animation studios across Europe. Most recently he worked as the lead character designer for the Oscar and Annie award nominated animated feature film The Secret of Kells, the first feature film to be produced by the Cartoon Saloon animation studio.He was subsequently nominated for an NCS Reuben Award for Feature Animation in 2010 for his work as the character designer on 'Kells'.
He is the artist of two Irish language comics written by Colmán Ó Raghallaigh and published by Cló Mhaigh Eo - An Táin ("the cattle-raid", 2006), adapting the ancient Irish epic Táin Bó Cúailnge ("the cattle-raid of Cooley"), in which queen Méabh of Connacht invades Ulster to steal the bull Donn Cuailgne, opposed by the teenage Ulster hero Cú Chulainn; and Deirdre agus Mic Uisnigh ("Deirdre and the sons of Uisnech", 2008), with Audrey O'Brien as colourist and letterist, adapting the legend of the tragic heroine who was chosen as a child to marry the king, but falls in love with a young hero.
External links
Edit
Online reference
Edit
Ad blocker interference detected!
Wikia is a free-to-use site that makes money from advertising. We have a modified experience for viewers using ad blockers

Wikia is not accessible if you've made further modifications. Remove the custom ad blocker rule(s) and the page will load as expected.