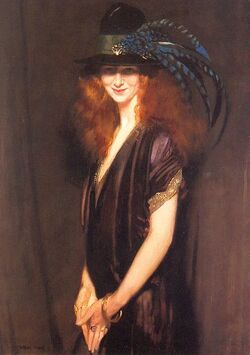 Beatrice Moss Elvery, later Baroness Glenavy, painter, stained glass artist and illustrator, was born in Dublin in 1881, the daughter of a Dublin businessman of Spanish ancestry. She studied at the Dublin Metropolitan School of Art where she was taught painting by William Orpen. Orpen later painted her portrait. She married Charles Campbell, later the 2nd Baron Glenavy, in 1912 and they moved to London, returning to Ireland after the First World War, where they moved in literary circles.
Elvery joined Sarah Purser's stained glass studio An Túr Gloine as a designer in 1903, and continued to paint and illustrate books, including K. F. Purdon's Candle and Crib (1914), Violet Russell's Heroes of the Dawn (1914) and Patrick Pearse's Íosagán (1907). She died in Sandycove, Dublin, in 1970.
References
Edit
Online reference
Edit
External links
Edit
Ad blocker interference detected!
Wikia is a free-to-use site that makes money from advertising. We have a modified experience for viewers using ad blockers

Wikia is not accessible if you've made further modifications. Remove the custom ad blocker rule(s) and the page will load as expected.