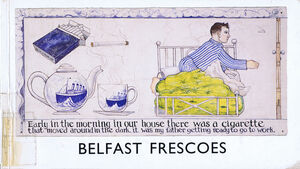 Belfast Frescoes is a sequence of twenty lime frescoes on slate by John Kindness, telling an autobiographical story of his childhood in Belfast in the 1950s. It was conceived as a proposal in 1993 for an artwork to be built into the Belfast lounge at Heathrow Airport. It was not commissioned, but Kindness completed it anyway. It was first exhibited at the Kerlin Gallery in Dublin in December 1994, was soon after purchased by the Ulster Museum in Belfast, and was published as a book by Crowquill in association with the Ulster Museum in 1995, with an introductory essay by the poet Ciaran Carson.
Ad blocker interference detected!
Wikia is a free-to-use site that makes money from advertising. We have a modified experience for viewers using ad blockers

Wikia is not accessible if you've made further modifications. Remove the custom ad blocker rule(s) and the page will load as expected.