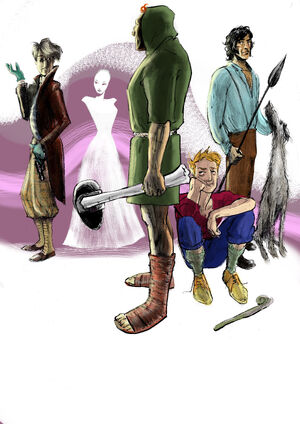 Big Bastard is an epic adventure comic book full of myth, monsters and mayhem. We think it's pretty funny too. Written by Danny McColgan and illustrated by Neil O'Driscoll. Big Bastard is an independently produced, Irish made comic book. The first issue will be launched at the first Dublin Comic Con and will be available to purchase (hard copy and digital download) from August 2013. 
Book Blurb

What you have known as myth and legend was real, just not in the way you think. 
The year is 1899. The place, Ireland. A mystical and destructive shockwave has torn through the country. Strange and dangerous creatures have appeared in its wake. It is up to four unlikely human specimens and one mysterious, big ol' bastard to try and save the world. Let's see if they can manage.
https://www.facebook.com/bigbastardcomic
bigbastardcomic@gmail.com
Ad blocker interference detected!
Wikia is a free-to-use site that makes money from advertising. We have a modified experience for viewers using ad blockers

Wikia is not accessible if you've made further modifications. Remove the custom ad blocker rule(s) and the page will load as expected.