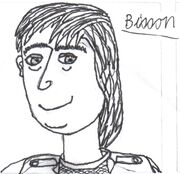 Bisson is the pen-name for Belfast cartoonist and poet Adam Lively.
Bisson contributed to Hold the Phones, it's Alex Jones!, drawing the eight page "Co-Opted" story, from a script by Professor Octagon, and one page strip, "The Sound, The Fury and Alex Jones", written by Andy Luke.
He also took part in Beneath The Tide, a comic produced at a workshop held by the Arts and Disability Forum's comics exhibition, contributing four of the sixteen pages.
External References
Edit
Ad blocker interference detected!
Wikia is a free-to-use site that makes money from advertising. We have a modified experience for viewers using ad blockers

Wikia is not accessible if you've made further modifications. Remove the custom ad blocker rule(s) and the page will load as expected.