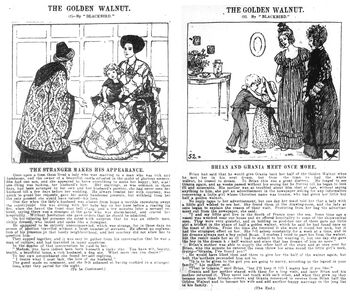 "Blackbird" was the pseudonym of the writer and illustrator of children's serials for the Belfast Telegraph in the 1920s. He or she "signed" their illustrations with a little silhouette of a bird. Serials he or she wrote and illustrated include Anne's Fairy Godmother (serialised every Monday through 1922), The Magic Watch (every Monday through 1923), The Tale of Li-Po and Su-Su (every Monday through 1924) and The Golden Walnut (every Monday through 1925).
Ad blocker interference detected!
Wikia is a free-to-use site that makes money from advertising. We have a modified experience for viewers using ad blockers

Wikia is not accessible if you've made further modifications. Remove the custom ad blocker rule(s) and the page will load as expected.