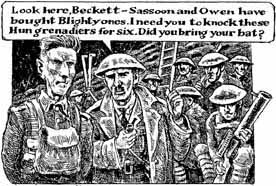 Brian O'Toole (b. 22 December 1946; d. 1 September 2001), originally from Liverpool, was an artist best known for his portraits of Irish writers, which have been reproduced as postcards. He drew cartoons for In Dublin magazine in the 1980s, working in a heavily crosshatched style. He drew the comic strip Shem and Sam, written by Stephen Walsh, featuring James Joyce and Samuel Beckett sharing a flat, which appeared in The Yellow Press and the British anthology Inkling in the 1990s, and his later work appeared in the Irish music magazine Hot Press.
External links
Edit
References
Edit
Ad blocker interference detected!
Wikia is a free-to-use site that makes money from advertising. We have a modified experience for viewers using ad blockers

Wikia is not accessible if you've made further modifications. Remove the custom ad blocker rule(s) and the page will load as expected.