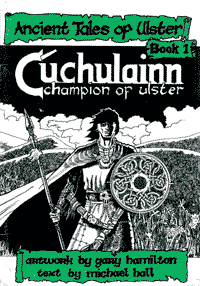 Cúchulainn: Champion of Ulster is a 56-page comic based on Irish mythology, written by Michael Hall, drawn by Gary Hamilton, and published by Island Publications in 1989. It adapts the legends of the youth of the Ulster hero Cúchulainn, including his fostering, his taking of arms and his training under the warrior woman Scáthach., in a melodramatic style that stays fairly close to the original texts. It was billed as "Ancient Tales of Ulster Book 1". Three further books were trailed on the back cover: Book 2 - The Táin; Book 3 - The Death of Cúchulainn; and Book 4 - Deirdre of the Sorrows. However, none of these were published. The first book broke even, but the creators were unable to obtain funding to continue the series.
Two different adaptations of the legends of Cúchulainn can be found in Cló Mhaigh Eo's Irish language graphic novel An Táin and Patrick Brown's webcomic The Cattle Raid of Cooley. See Cú Chulainn in comics for more.
External links
Edit
Ad blocker interference detected!
Wikia is a free-to-use site that makes money from advertising. We have a modified experience for viewers using ad blockers

Wikia is not accessible if you've made further modifications. Remove the custom ad blocker rule(s) and the page will load as expected.