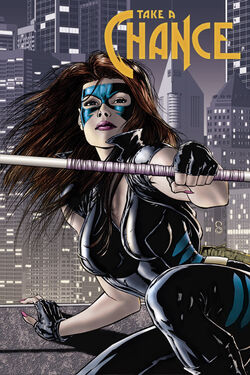 Catie (C. E.) Murphy (b. 1 June 1973), born and raised in Alaska but based in her ancestral homeland of Ireland, is a writer of fantasy novels including the Walker Papers series, The Negotiator Trilogy and the Inheritor's Cycle, as well as The Strongbox Chronicles under the pseudonym Cate Dermody. She wrote the five-issue comics series Take a Chance, drawn by Ardian Syaf, coloured by Jason Embury, lettered by Melissa S. Kaercher, with covers by Scott Clark, published by Dabel Brothers Publishing in 2008-9.
External links
Edit
Online reference
Edit
Ad blocker interference detected!
Wikia is a free-to-use site that makes money from advertising. We have a modified experience for viewers using ad blockers

Wikia is not accessible if you've made further modifications. Remove the custom ad blocker rule(s) and the page will load as expected.