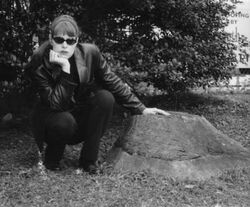 Caitlín Rebekah Kiernan (born 26 May 1964 in Skerries, Dublin) is a writer of science fiction and dark fantasy novels, short stories and comics, and a paleontologist with a number of scientific papers to her name.
As a child she moved to the USA with her mother, spending her childhood in the Alabama towns of Leeds and Trussville. She studied geology and vertebrate paleontology at the University of Alabama at Birmingham and the University of Colorado at Boulder, and held both museum and teaching positions. In 1988, she co-authored a paper describing the new genus and species of mosasaur, Selmasaurus russelli. Her most recent scientific publication is a paper on the biostratigraphy of Alabama mosasaurs, published in the Journal of Vertebrate Paleontology (2002).
She started writing fiction in 1992, when she began her first novel, The Five of Cups, which wasn't published until 2003. Her first published fiction was "Persephone", a science fiction short story, in 1995. She has had short fiction selected for Year's Best Fantasy and Horror series, The Mammoth Book of Best New Horror, and The Year's Best Science Fiction, and her short stories have been collected in several volumes.
In May 1996, Kiernan was approached by Neil Gaiman and editors at DC/Vertigo Comics to begin writing for The Dreaming, a spin-off from Gaiman's The Sandman. Kiernan wrote for the title from 1996 until its conclusion in 2001, working closely with Gaiman and focusing not only on preexisting characters, but also on new characters. Other comics she has written for Vertigo include the four issue miniseries The Girl Who Would Be Death (1998), and the three issue miniseries The Sandman Presents: Bast (2003).
Kiernan identifies as lesbian and Wiccan and lives in Providence, Rhode Island with her partner, photographer Kathryn A. Pollnac.
External links
Edit
Online reference
Edit
Ad blocker interference detected!
Wikia is a free-to-use site that makes money from advertising. We have a modified experience for viewers using ad blockers

Wikia is not accessible if you've made further modifications. Remove the custom ad blocker rule(s) and the page will load as expected.