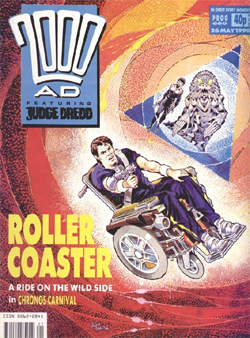 Chronos Carnival is a science fiction strip by writer Hilary Robinson and artist Ron Smith, which appeared in 2000AD. The adventures of a space-travelling circus, its main characters were a paraplegic former fighter pilot, a showgirl and an alien dragon. It ran for two series in 1990. A third series was completed but never appeared following a legal dispute, in which Robinson established her copyright in the characters.
References
Edit
David Bishop, Thrill Power Overload: 2000AD - the first thirty years, Rebellion, 2009, pp. 128-129, 136-137
Ad blocker interference detected!
Wikia is a free-to-use site that makes money from advertising. We have a modified experience for viewers using ad blockers

Wikia is not accessible if you've made further modifications. Remove the custom ad blocker rule(s) and the page will load as expected.