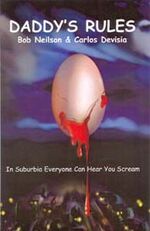 Daddy's Rules is a one-shot comic by Irish writer Bob Neilson and Argentinian artist Carlos Devisia. It was published in 2006 by V1 Comics in Dublin and costs €3.50.
The basic plot of the comic revolves around a suburban Dublin family and their new neighbours. The new neighbours have a daughter who is a bully and picks on the family relentlessly. So why are the family scared of their absent 'Daddy' taking care of matters?
External links
Edit
Ad blocker interference detected!
Wikia is a free-to-use site that makes money from advertising. We have a modified experience for viewers using ad blockers

Wikia is not accessible if you've made further modifications. Remove the custom ad blocker rule(s) and the page will load as expected.