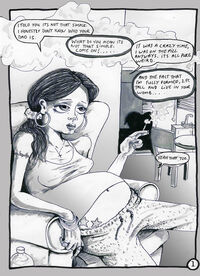 Damien Flood is a cartoonist from Bray, County Wicklow, and the creator of Knocked Up Nikki (2008). Set in the seaside town of Bray, County Wicklow, Nikki is a permanently pregnant teenage girl with a 2ft fully formed baby Jesus in her womb. She lives with her two flat mates, the Siamese Precogs, and Huggy Bear, her oldest friend.
External links
Edit
Ad blocker interference detected!
Wikia is a free-to-use site that makes money from advertising. We have a modified experience for viewers using ad blockers

Wikia is not accessible if you've made further modifications. Remove the custom ad blocker rule(s) and the page will load as expected.