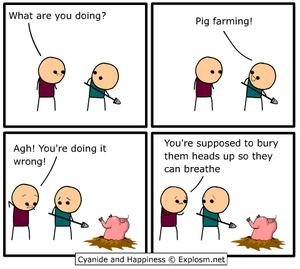 Dave McElfatrick is a cartoonist and animator from Coleraine, County Derry, who is one of the artists behind the webcomic Cyanide and Happiness, along with American artists Kris Wilson, Rob DenBleyker and Matt Melvin. He is currently living in Belfast, County Antrim, where he continues to write and draw the comic, as well as produce animated work for his company, Explosm, and third party companies.
External links
Edit
Ad blocker interference detected!
Wikia is a free-to-use site that makes money from advertising. We have a modified experience for viewers using ad blockers

Wikia is not accessible if you've made further modifications. Remove the custom ad blocker rule(s) and the page will load as expected.