David Houston was involved in several Belfast-based fanzines in the 80s and 90s, including Fantasy Unlimited, Twilight Zone, The Dark, and Elenna, which ran into the teens and featured contributions from Sean Doran and Paul McCullough. He contributed to Small Axe in 2005. Professional work in comics includes "Miser's Gold", an adaptation of a poem by Robert E. Howard, for REH: Two-Gun Raconteur #16 in 2010, and another adaptation of a Howard poem about boxing, "All the Crowd".
Has just released Horhay King of Fools through Amazon Kindle ebook and lulu Ebook.  Which can be found here with a promotional video for the comic. 
http://www.amazon.co.uk/Horhay-King-Fools-Michael-McKeown-ebook/dp/B00GMO279A/ref=sr_1_1?ie=UTF8&qid=1384561822&sr=8-1&keywords=Horhay
 And here: 
http://www.lulu.com/shop/david-houston-and-steve-allsup/horhay-king-of-fools/ebook/product-21298969.html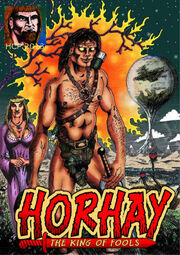 External links
Edit
Ad blocker interference detected!
Wikia is a free-to-use site that makes money from advertising. We have a modified experience for viewers using ad blockers

Wikia is not accessible if you've made further modifications. Remove the custom ad blocker rule(s) and the page will load as expected.