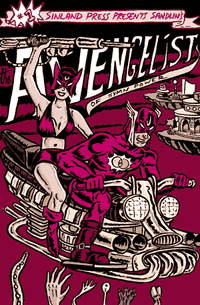 David Sandlin is a cartoonist, painter and illustrator, born in Belfast in 1956. Reared in a blended Protestant/Catholic adoptive family headed by an expatriate American army veteran from rural Alabama, and residing in a loyalist neighborhood targeted by Irish Republican paramilitary bombers. In 1972, at the height of civil unrest in Ulster, Sandlin immigrated to the United States with his family, landing first in the foothills of Appalachia in northern Alabama. His parents and two sisters soon resettled in Canada, but the young Sandlin, after earning early graduation from high school in Hanceville, Alabama, elected to remain behind. He set out on an independent path at age sixteen and shortly made his way to Birmingham.
Though Sandlin's interest in graphic arts arose in Belfast as he pored over the now classic comic book art of Jack Kirky and Will Elder, his expertise in printmaking developed in Birmingham, where he completed a bachelor's degree in fine arts at the University of Alabama at Birmingham, in 1979. He moved to New York a year later and found employment printing artists lithographs at Styria Studio before taking a teaching position at the School of Visual Arts. His acquaintance with another instructor at SVA, Art Spielgelman, facilitated his push into bookmaking. Sandlin's earliest titles include Land of 1,000 Beers (self-published 1989), Burning Ring of Fire (Nexus Press, 1993), and Rapture of the Deaths of Desire (self-published, 1994). In 1995, he began his current series of books, A Sinner's Progress.
His comic art and illustrations have appeared in Blab!, The Ganzfeld, Harper's, MTV Publications, the New York Times, The New Yorker, Raw, Spin, Strappazin, Zero Zero, and many others. He is a recipient of grants from the Pollock-Krasner Foundation, New York Foundation for the Arts, and the Penny McCall foundation, among others. He currently lives in New York where he teaches printmaking and bookbinding at the School of Visual Arts. For the 2007/2008 academic year Sandlin was the Lamar Dodd Professorial Chair at the Lamar Dodd School of Art, University of Georgia.
External links
Edit
Online reference
Edit
Ad blocker interference detected!
Wikia is a free-to-use site that makes money from advertising. We have a modified experience for viewers using ad blockers

Wikia is not accessible if you've made further modifications. Remove the custom ad blocker rule(s) and the page will load as expected.