Ad blocker interference detected!
Wikia is a free-to-use site that makes money from advertising. We have a modified experience for viewers using ad blockers

Wikia is not accessible if you've made further modifications. Remove the custom ad blocker rule(s) and the page will load as expected.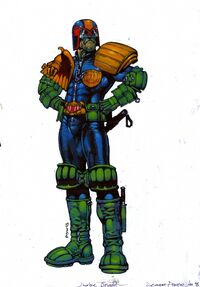 Dermot Power (b. Dungarvan, County Waterford, 22 July 1967) is a comics artist, illustrator, movie concept artist and storyboard artist. He moved to London in 1987, where he painted covers for video games for Virgin Games in 1989-90. The cover of a Judge Dredd game led to work for 2000AD, where he painted Judge Dredd and Sláine from 1991 to 1997, including the Batman-Judge Dredd crossover The Ultimate Riddle in 1995. He also painted a four issue miniseries, Digitek, for Marvel UK in 1992, and numerous covers for 2000AD, the Judge Dredd Megazine and Sonic the Comic. In 1997 he drew character designs for the Hallmark TV miniseries Merlin, which led to further work in TV, and, in 1998, concept design work on the Star Wars film Attack of the Clones. Since then he has worked on films such as V for Vendetta, Batman Begins, Charlie and the Chocolate Factory, Beowulf, the Harry Potter series, and Tim Burton's Alice in Wonderland. He lives in London with his partner Charlotte and their son Eolan.
Comics bibliography
Edit
Judge Dredd: "The Apartment", written by John Wagner, 2000AD prog 722, March 1991
Judge Dredd: "Muzak Killer", written by Garth Ennis, 2000AD progs 746-748, August-Spetember 1991
Judge Dredd: "Teddy Choppermitz", written by Garth Ennis, 2000AD prog 760, December 1991
Dinosaurs: A Celebration, one of seven artists, Marvel Comics, October 1992
Digitek #1-4, written by Andy Lanning and John Tomlinson, Marvel UK, December 1992 - March 1993
Judge Dredd: "Muzak Killer: Live!", written by Garth Ennis, 2000AD progs 837-839, May-June 1993
Sláine: "Demon Killer" part 8, written by Pat Mills, 2000AD prog 859, October 1993
Judge Dredd: "Book of the Dead", written by Grant Morrison and Mark Millar, 2000AD progs 859-866, October-December 1993
Sláine: "Queen of Witches", written by Pat Mills, 2000AD progs 889-896, May-July 1994
Judge Dredd: "The Big Sleet", written by Peter K. Hogan, partly illustrated by Ross Dearsley, 2000AD prog 920, December 1994
Batman/Judge Dredd: "The Ultimate Riddle", written by John Wagner and Alan Grant, partly illustrated by Carl Critchlow, DC/Fleetway, September 1995
Sláine: "Treasures of Britain", written by Pat Mills, 2000AD progs 1001-1010, August-September 1996, 1024-1031, January-February 1997
The Worm, jam comic with numerous artists, Slab-O-Concrete, 1999
External links
Edit
Online reference
Edit