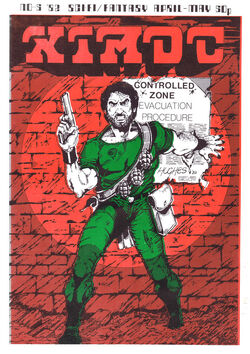 Desi Hughes drew the science fiction strip "Scavenger", written by Bob Curran, in the third and fourth issues of Ximoc in 1981, and wrote and drew it in issue 5 in 1982.
Des (as he's now known) graduated college and went on to join the TV industry, firstly as a Location Manager, then subsequently as Production Manager and nowadays as Line Producer. Credits include CRACKER, PRIME SUSPECT, CUTTING IT, SECOND COMING and DOCTOR WHO amongst other
Ad blocker interference detected!
Wikia is a free-to-use site that makes money from advertising. We have a modified experience for viewers using ad blockers

Wikia is not accessible if you've made further modifications. Remove the custom ad blocker rule(s) and the page will load as expected.