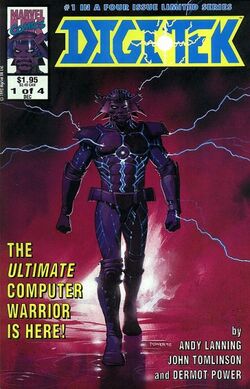 Digitek is a character created by writers John Tomlinson and Andy Lanning and artist Dermot Power for Marvel UK 1992. Jonathan Bryant, head of a team studying alien technology from another dimension, was left fused with a powerful armoured suit after his project was sabotaged, and he fought against the Bacillicons, mercenaries who had been similarly transformed, with the aid of Marvel's cyborg character Deathlok. The strip was published in two different formats - in the weekly anthology Overkill for the UK market, and collected as a miniseries for the US market. The character has since made occasional appearances in other Marvel Comics.
References
Edit
Online reference
Edit
Ad blocker interference detected!
Wikia is a free-to-use site that makes money from advertising. We have a modified experience for viewers using ad blockers

Wikia is not accessible if you've made further modifications. Remove the custom ad blocker rule(s) and the page will load as expected.