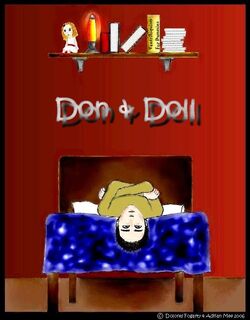 Don and Doll is a webcomic co-written and drawn by Dolores Fogarty and co-written by Adrian Mee. It was part of the Transplant Comics Collective, and ran on an irregular schedule from 2006 to 2008. It was the tale of Don, a rather strange and lonely young man whose best friend is Doll. The only problem is, Doll is an actual doll, who has the ability to communicate with Don. The question is, who is really controlling who?
External links
Edit
Online reference
Edit
Ad blocker interference detected!
Wikia is a free-to-use site that makes money from advertising. We have a modified experience for viewers using ad blockers

Wikia is not accessible if you've made further modifications. Remove the custom ad blocker rule(s) and the page will load as expected.