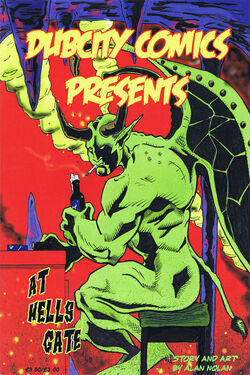 Dubcity Comics Presents is a comic series created and published by Dublin writer-artist Alan Nolan. The first issue, "At Hell's Gate", a horror story set in a haunted bar in Kentucky, was published in July 2009.
Issue 2, "Tales of the Sentinel" was published at Myebook in the Summer of 2010. All things considered, an online version will take up considerably less space in my hotpress, and won't serve as a constant reminder of commercial failure!
External links
Edit
Ad blocker interference detected!
Wikia is a free-to-use site that makes money from advertising. We have a modified experience for viewers using ad blockers

Wikia is not accessible if you've made further modifications. Remove the custom ad blocker rule(s) and the page will load as expected.