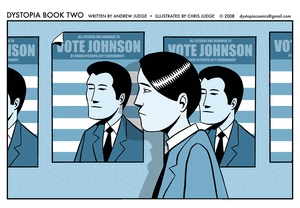 Dystopia is a satirical comic strip set in a bureaucratic futuristic city, written by Andrew Judge and drawn by Chris Judge, which was published monthly in Totally Dublin magazine until at least part 37 in April 2009.
Ad blocker interference detected!
Wikia is a free-to-use site that makes money from advertising. We have a modified experience for viewers using ad blockers

Wikia is not accessible if you've made further modifications. Remove the custom ad blocker rule(s) and the page will load as expected.