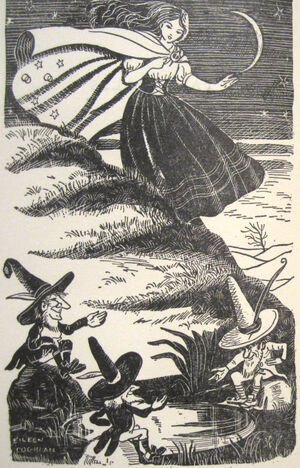 Eileen Coghlan was born in Kilbeggan, County Westmeath, on 18 May 1909, daughter of William Coghlan, a tailor, and his wife Mary, née McClelland. She studied at the Dublin Metropolitan School of Art and became a commercial artist, initially illustrating children's books and school textbooks, later carving out a niche illustrating book jackets, sometimes signing her work EC or Eibhlin Ní Chochlain. She joined the Water Colour Society of Ireland and painted landscapes, town and country scenes, and portraits - her portraits of babies were particularly noted. She also drew cartoons for Dublin Opinion and contributed a weekly illustrated satirical article to the Irish Press as well as regular illustrated articles to the Irish Digest. She died at the Midland General Hospital in Tullamore, County Offaly, on 13 April 1990, following a short illness.
References
Edit
Ad blocker interference detected!
Wikia is a free-to-use site that makes money from advertising. We have a modified experience for viewers using ad blockers

Wikia is not accessible if you've made further modifications. Remove the custom ad blocker rule(s) and the page will load as expected.