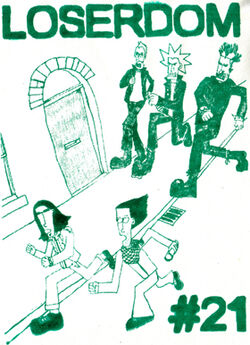 Eugene Dillon is the co-creator, with his brother Anto, of the zine Loserdom (1996-present), for which he draws the illustrations and comic strips. He has also created five zines solo: Wake up Baby yeh! It hits you right between the eyes (1999), And they are saying (1999), Open shirts and raised collars (2000), I was looking back to see if you were looking back at me to see me looking back from you (2001) and The way of DIY Rocking (2002).
External links
Edit
Ad blocker interference detected!
Wikia is a free-to-use site that makes money from advertising. We have a modified experience for viewers using ad blockers

Wikia is not accessible if you've made further modifications. Remove the custom ad blocker rule(s) and the page will load as expected.