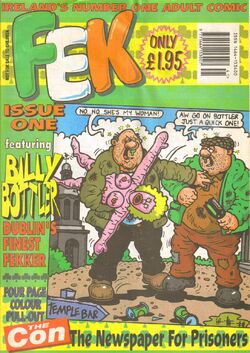 Fek was a newsstand "adult" comic in the Viz mould, created by Tom Fulep and Clive Ward and published by CDT Publishing, Wicklow, in the mid 1990s. It appears to have been a repackaging of the British comic Smut, with some Irish-themed content. Contributors included Lee Healey, Nick and Fran Brennan, Spod, Paul McCaffrey, Jimmy, Wing, Phil Neill, Nigel Maughran, Warren Roome and Ufuk.
Ad blocker interference detected!
Wikia is a free-to-use site that makes money from advertising. We have a modified experience for viewers using ad blockers

Wikia is not accessible if you've made further modifications. Remove the custom ad blocker rule(s) and the page will load as expected.