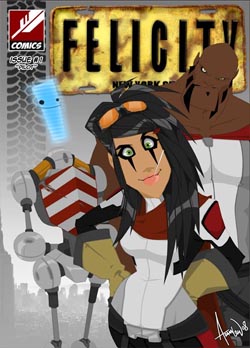 Felicity is a webcomic by Adam Law. Set in New York 500 years in the future, where joyriders compete in the prison league of Mort-Racing, the worlds most extreme death-sport, designed to create intense speed and heighten danger to a point where carnage and death are at a high probability. Split into teams of three, the sport requires a pilot, gunner and Nav-bot. Behind "Death Ball" and "Grindswitch" it is the most dangerous sport to date. Team Crimson compete to earn their freedom in their ship, Felicity.
Two online issues have so far been published, both in 2009, with a third in progress. The first, "Pilot", was co-written by James Law.
External links
Edit
Ad blocker interference detected!
Wikia is a free-to-use site that makes money from advertising. We have a modified experience for viewers using ad blockers

Wikia is not accessible if you've made further modifications. Remove the custom ad blocker rule(s) and the page will load as expected.