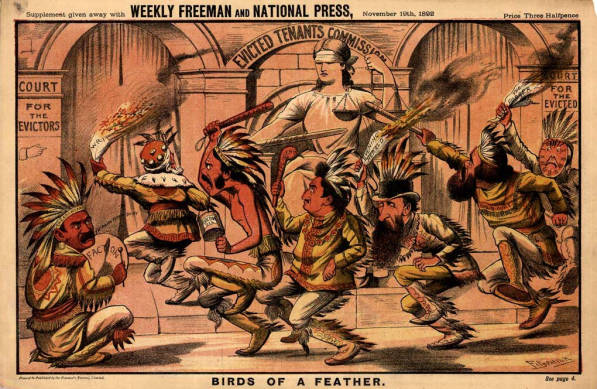 No higher resolution available.
"Birds of a Feather", cartoon by Thomas Fitzpatrick, Weekly Freeman, 19 November 1892
This is an anti-Parnellite cartoon which accuses the Parnellites of joining forces with the Conservatives and Unionists to frustrae the working of a commission on the plight of tenants evicted in th ePlan of Campaign and other agitations. (The Parnellite position was that the Commission was a sham intended to disguise the unwillingness of the Liberals to do anythign for the evicted tenants and the inability of the Anti-Parnellites to make them do so.)
The portrayal of landlords and Unionists as savages (to contrast the Unionist claim that they represented civilisation against nationalist barbarism) was fairly common in nationalist cartoons. The dancers are; THE TIMES represented by a figure with that paper's celebrated offic clock for a face, and waving a burning paper labelled "The Forger" in reference to the Parnell forgeries published by the Times; the former conservative/Unionist Prime Minister Lord Salisbury (holding down the scales of justice with a policeman's baton); the Parnellite MP Dr. JE Kenny whose burning torch is the EVENING HERALD (then a Parnellite paper); John Redmond, the Parnellite leader; AJ Balfour (bare-chested and with sideburns), Conservative leader in the House of Commons and a hate-figure because of his harsh law enforcement policies as Chief Secretary for Ireland 1887-91; and a stereotypical landlord waving a writ of eviction and holding a collection-box for donations from his British and irish political sympathisers. Tim Harrington, a leading Parnellite MP, beats a war-drum marked "Faction".
Licensing:
Edit
This file is in the public domain
Appears on these pages

of
1881 | 1882 | 1883 | 1884 | 1885 | 1886 | 1887 | 1888 | 1889 | 1890 | 1891 | 1892 | 1893 | 1894...

Died 1912: Thomas Fitzpatrick, political cartoonist, Dublin Add a photo to this gallery Add a...
File history
Click on a date/time to view the file as it appeared at that time.
Ad blocker interference detected!
Wikia is a free-to-use site that makes money from advertising. We have a modified experience for viewers using ad blockers

Wikia is not accessible if you've made further modifications. Remove the custom ad blocker rule(s) and the page will load as expected.