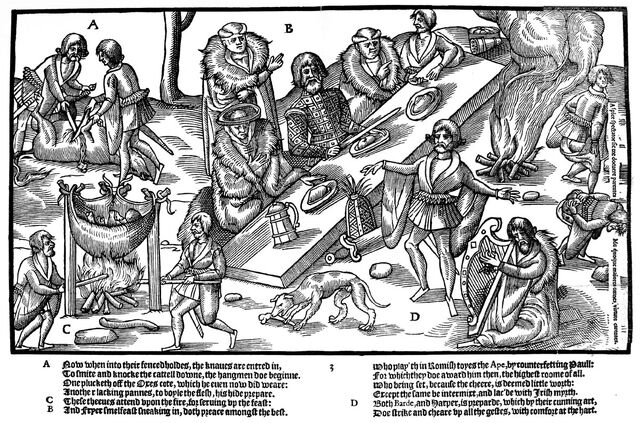 The Image of Irelande by John Derricke, 1581, plate 3
Text:
A.
Now when into their fenced holdes the knaves are entred in,
To smite and knocke the cattell downe, the hangmen doe beginne.
One plucketh off the Oxes cote, which he even now did weare,
Another lacking pannes, to boyle the flesh his hide prepare.
C.
These theeves attend upon the fire for serving up the feast,

B.
And Fryer Smelfeast sneaking in, doth preace amongst the best.
Who play'th in Romish toyes the Ape, by counterfetting Paull;
For which they doe award him then, the highest room of all.
Who being set, because the cheere is deemed little worth,
Except the same be intermixt and lac'de with Irish myrth.
D.
Both Barde and Harper is preparde, which by their cunning art,
Doe strike and cheare up all the gestes with comfort at the hart.
Over to the right, the two guests mooning are saying:
Aspice spectator sic me docuere parentes ("This is how my parents taught me to behave as a spectator")
and
Me quoque maiores omnes virtute carentes ("All older people lacking in goodness taught me the same")
Licensing
Edit
This file is in the public domain
Appears on these pages

of
The Image of Irelande, with a Discoverie of Woodkarne is a 1581 book by John Derricke, an...
File history
Click on a date/time to view the file as it appeared at that time.
Ad blocker interference detected!
Wikia is a free-to-use site that makes money from advertising. We have a modified experience for viewers using ad blockers

Wikia is not accessible if you've made further modifications. Remove the custom ad blocker rule(s) and the page will load as expected.