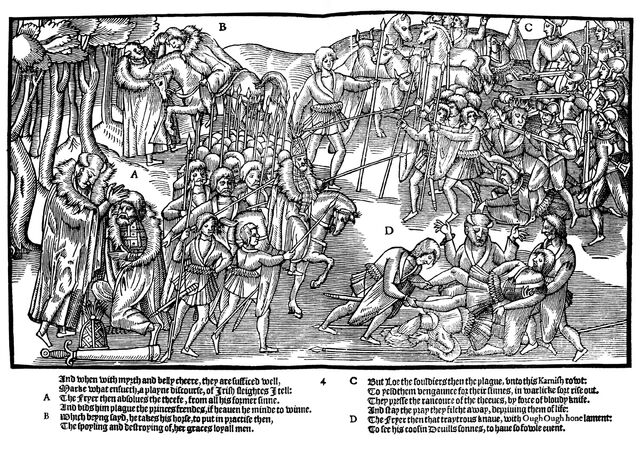 The Image of Irelande, plate 4, by John Derricke, 1581
Text:
And when with myrth and belly cheere, they are sufficed well,
Marke what ensueth, a playne discourse, of Irish sleightes I tell:
A
The fryer then absolves the theefe, from all his former sinne,
And bids him plague the princes frendes, if heaven he minde to winne.
B
Which being sayd, he takes his horse, to put in practise then,
The spoyling and destroying of her graces loyal men.

C
But Loe the souldiers then the plague, unto this Karnish rowt:
To yeld them vengeaunce for their sinnes, in warlick sort rise out.
They presse the rancoure of the theeves, by force of bloudy knife,
And stap thje pray they ficht away, depriving them of life:
D
The fryer then that traytrous knave, with Ough Ough Hone lament:
To see his coosin Devills sonnes, to have so fowle event.
Licensing
Edit
This file is in the public domain
Appears on these pages

of
The Image of Irelande, with a Discoverie of Woodkarne is a 1581 book by John Derricke, an...
File history
Click on a date/time to view the file as it appeared at that time.
Metadata
Ad blocker interference detected!
Wikia is a free-to-use site that makes money from advertising. We have a modified experience for viewers using ad blockers

Wikia is not accessible if you've made further modifications. Remove the custom ad blocker rule(s) and the page will load as expected.