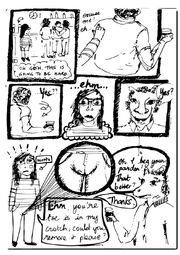 Fiona Sparkles: A Periodical is a 12 page A5 photocopied comic zine published online via Wordpress in 2011 , and in print in August 2012 by Dublin freelance illustrator and artist Holly Pereira.
The collection of short strips is vagina-centric, with content on periods, sex and pregnancy. They are told from the view-point of the protagonist, the author herself, and a mid-section contains a text-altered photo-strip.
External Links
Edit
Ad blocker interference detected!
Wikia is a free-to-use site that makes money from advertising. We have a modified experience for viewers using ad blockers

Wikia is not accessible if you've made further modifications. Remove the custom ad blocker rule(s) and the page will load as expected.