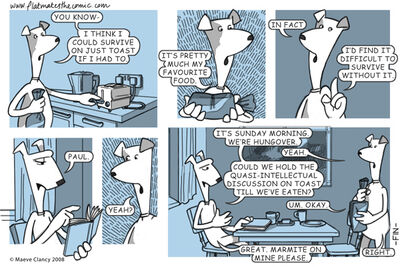 Flatmates is a weekly webcomic by Maeve Clancy, "about friendship, urban life and talking shite", starring Dublin flatmates Seán and Paul, who are drawn as cartoon dogs, and their neighbour Shelley, who, like everyone else in the strip, appears human. It ran from 29 March 2008 to 8 July 2011, updating on Fridays. It was nominated for the Best Entertainment Website award at the 2008 Irish Web Awards. A 65-page collected edition, Flatmates: The Collected Volume 1, was published by Verbal Press in 2010.
External links
Edit
Ad blocker interference detected!
Wikia is a free-to-use site that makes money from advertising. We have a modified experience for viewers using ad blockers

Wikia is not accessible if you've made further modifications. Remove the custom ad blocker rule(s) and the page will load as expected.