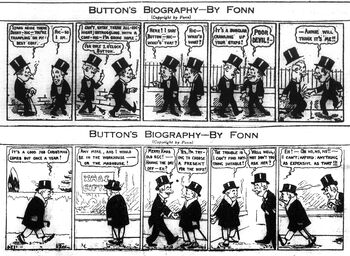 Fonn was the pseudonym of a cartoonist who drew comic strips for the Belfast Telegraph in the 1920s. He drew The Doings of Dudly three days a week from 2 August 1924 until 14 March 1925. After that he drew Button's Biography at the same frequency.
His real name may have been Frederick Garnett: the Boy's Own Paper had a strip called "The Doings of Dudley" credited to that name in 1924-25.
References
Edit
Ad blocker interference detected!
Wikia is a free-to-use site that makes money from advertising. We have a modified experience for viewers using ad blockers

Wikia is not accessible if you've made further modifications. Remove the custom ad blocker rule(s) and the page will load as expected.