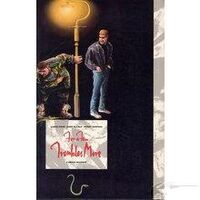 For a Few Troubles More is a broad, Belfast-based comedy written by Garth Ennis and illustrated in painted colour by John McCrea, with colour assistance by Wendy Simpson. It was serialised in Fleetway's political comic Crisis in 1990, with a collected edition published later the same year. It is a follow-up to Troubled Souls, featuring its two idiot supporting characters, Dougie Patterson and Ivor Thompson. Dougie is to marry his pregnant girlfriend Valerie, and the crude Ivor, to the horror of all, is to be his best man. The pair, who are based visually on McCrea's brothers Jasper (Dougie) and Stevie (Ivor), would much later get their own series published by Avatar in the US: Dicks, in which Dougie and Ivor attempt to become private detectives.
Online reference
Edit
Ad blocker interference detected!
Wikia is a free-to-use site that makes money from advertising. We have a modified experience for viewers using ad blockers

Wikia is not accessible if you've made further modifications. Remove the custom ad blocker rule(s) and the page will load as expected.