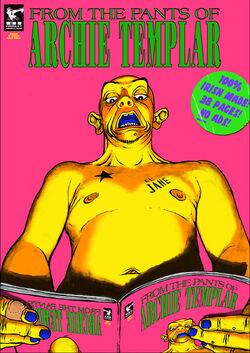 From the Pants of Archie Templar, published in 2007, is a full-colour, A4-size small press comic, collecting short pieces by Archie Templar. Taking a high brow look at the city of Dublin and her colourful inhabitants; along the way we meet Simon Leviticus, a gent who takes the Old Testament just a little too literally; Finian and his fickle opinions, a typical middle-class fop who changes his mind as often as his chinos and a host of other chums of Archie's.
External links
Edit
View some of the comic online here
Online reference
Edit
Ad blocker interference detected!
Wikia is a free-to-use site that makes money from advertising. We have a modified experience for viewers using ad blockers

Wikia is not accessible if you've made further modifications. Remove the custom ad blocker rule(s) and the page will load as expected.