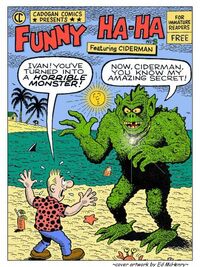 Funny Ha-Ha Magazine ran for three issues, the final issue under a cover by John McCrea being printed in 1988.
A, 32 pages, priced 30p, it largely featured strips of Davy Francis's The Amusing Ciderman. However, there was also a large zine feel. The final issue featured a brief interview with Norman Wisdom, and a lengthier discussion with classic British comics creator Mike Western. Funny Ha Ha also featured brief contributions by Harley Richardson, Ed Pinsent, Ivor Lavery, Rick Holden and Hunt Emerson.
Proceeds of the sale of the book were donated to Action MS.
Ad blocker interference detected!
Wikia is a free-to-use site that makes money from advertising. We have a modified experience for viewers using ad blockers

Wikia is not accessible if you've made further modifications. Remove the custom ad blocker rule(s) and the page will load as expected.