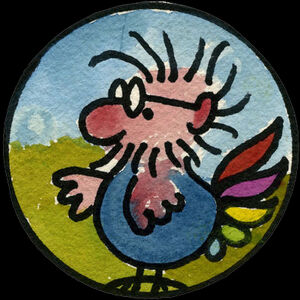 Gerrit van Gelderen (1926-1994) was a naturalist, wildlife broadcaster, illustrator and cartoonist.
Born on 26 August 1926 in Rotterdam, the Netherlands, in his youth he assisted in surveying the plants and animals of the wildlife santuary at De Beer, outside Rotterdam. He was educated at the college of art in the Hague, and afterwards took to hitchhiking through northern Europe. In 1955 he settled in Dublin, working as a commercial artist for an advertising company. In 1958 he began contributing cartoons, illustrations, photography and columns to the Irish Farmers' Journal, often on environmenal themes.
He had become fascinated by Irish wildlife, and from 1962 he and Éamon de Buitléar presented a weekly wildlife programme on RTÉ television called Amuigh Faoin Spéir ("Outside, under the sky"), which won the Jacobs Award in 1967. In the mid-1970s he made his own series, "To the Waters and the Wild", filming all over the world.
He contributed articles and ilustrations to the childen's magazine Our Boys, and wrote an autobiography, To the Waters and the Wild: Adventures of a Wildlife Film Maker (1985), which included cartoons attacking hunters, polluters and other despoilers of the environment.
He died at home at Sandyford, Co. Dublin, on 28 February 1994, while recovering from a lung operation.
References
Edit
Patrick Long, "van Gelderen, Gerrit", Dictionary of Irish Biography, (Eds.) James Mcguire, James Quinn, Cambridge University Press, 2009
Ad blocker interference detected!
Wikia is a free-to-use site that makes money from advertising. We have a modified experience for viewers using ad blockers

Wikia is not accessible if you've made further modifications. Remove the custom ad blocker rule(s) and the page will load as expected.