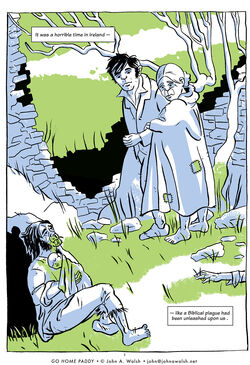 Go Home Paddy is an American webcomic by John A. Walsh, about the Irish-American immigrant experience, running since 2010. During the potato famine, Paddy Brennan struggles across Ireland and boards a ship to Boston, where as an immigrant he encounters prejudice and discrimination. Walsh was inspired to create the comic by anti-immigrant attitudes among today's Irish-Americans, and draws his Irish characters in the style of the anti-Irish "simian" caricature common in Victorian caricature. He is running a fundraising campaign on Kickstarter to enable him to finish the book.
External links
Edit
Ad blocker interference detected!
Wikia is a free-to-use site that makes money from advertising. We have a modified experience for viewers using ad blockers

Wikia is not accessible if you've made further modifications. Remove the custom ad blocker rule(s) and the page will load as expected.