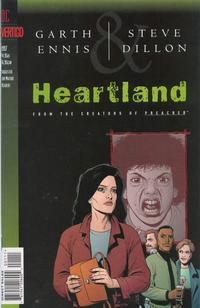 Heartland is a one-shot comic written by Garth Ennis, drawn by Steve Dillon, and published by DC/Vertigo in 1997. A spin-off from their run on the Vertigo horror title Hellblazer, it followed Kathy "Kit" Ryan as she returned home to Belfast in the wake of her break-up with Hellblazer's protagonist John Constantine, caught up with her family, and dealt with the memory of her abusive father.
External links
Edit
Online reference
Edit
Ad blocker interference detected!
Wikia is a free-to-use site that makes money from advertising. We have a modified experience for viewers using ad blockers

Wikia is not accessible if you've made further modifications. Remove the custom ad blocker rule(s) and the page will load as expected.