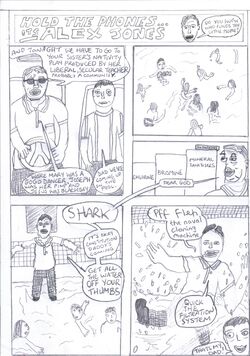 Hold the Phones, it's Alex Jones! is a series of comic strips by writer-artist Andy Luke and co-writer Professor Octagon (Richard Barr), with contributions from Benjamin Stone from Illinois, satirising the right-wing American conspiracy theorist radio presenter. "Series 1" was published on the web (on Luke's LiveJournal) over late 2010 .
A forty-four page book collection in A4 format saw print in March 2012 , reprinting the webcomic and "Series 2", produced over the previous three months. In addition to the co-creators and Stone, it featured 11 pages drawn by Belfast cartoonist Bisson, and a piece from Indianapolis based writer Geoffrey D. Wessel and Sean Duffield of Brighton's Paper Tiger Comix.
The work is available on XinXii, Lulu, IndyPlanet Print and Digital, and Myebook. Within six months of it's launch, Season 1 on MyeBook was viewed 5,000 times.
External links
Edit
Ad blocker interference detected!
Wikia is a free-to-use site that makes money from advertising. We have a modified experience for viewers using ad blockers

Wikia is not accessible if you've made further modifications. Remove the custom ad blocker rule(s) and the page will load as expected.