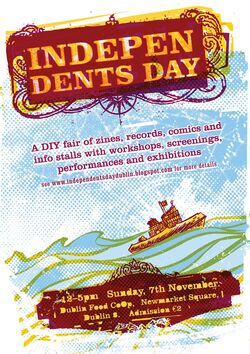 Independents Day is a D.I.Y. fair of zines, records, comics and info stalls with workshops, screenings, performances and exhibitions, held annually at the Dublin Food Co-Op, Newmarket Square, Dublin, organised by Anto Dillon (co-creator of the zine Loserdom) and Barry Lennon (who runs The Richter Collective record label). The first event was held on 7 December 2008, the second on 22 November 2009 and the third on 7 November 2010.
External links
Edit
Ad blocker interference detected!
Wikia is a free-to-use site that makes money from advertising. We have a modified experience for viewers using ad blockers

Wikia is not accessible if you've made further modifications. Remove the custom ad blocker rule(s) and the page will load as expected.